I am waiting till I have been to see The Hunger Games to share with you my Top 5 Must-See Movies (click here for my top 5 must-reads!), so I have a wishlist for you instead today so that I am not leaving too long in between posts. I am going on Thursday and I honestly cannot wait! It was meant to be tomorrow but I had to rearrange my plans -- I have been offered a day working in a cafe down the street because it has been jam-packed these past few days. I worked in there on Sunday because it was Easter and there was a national bike race that went through my town so it was pretty busy! My mum's best friend is runs the shop and the cafe because the owner is quite old and can't do it herself. It is always good to know someone that runs a cafe!! I am really glad to be offered another day, I am in desperate need of the money. Damn Boots for having a 3 for 2 offer on all cosmetics, haircare and skincare.
Omg I want these so bad. To be honest, I don't even want 3 of the brushes. I would prefer it if you could buy the Buffing Brush separately but you can't. Damn. So I am prepared to pay £21.99 for four brushes, three of which I might not use. Then again I could be wrong and end up loving them. We'll have to see! This is probably the thing that I want the most out of all the things I am about to show you.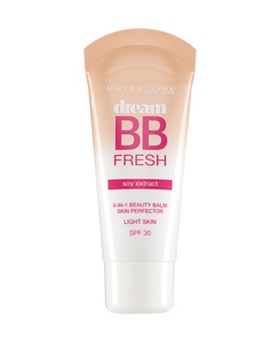 I am really interested in trying out this new product on the market from Maybelline. If I like it (which hopefully I will), I think it will be a fabby thing to bring with me on my summer holiday to Spain this year because it won't be as heavy as a foundation would be. I never feel right wearing a foundation in the summer so this would be perfect. It is also a very very reasonable price.
This is a really beautiful colour, it reminds me of ice cream. Barry M always have really cute pastel colours and this would be bloomin' beautiful in the spring and the summer. I think it is number 317, correct me if I am wrong. The price is also totes amazeballs.
I found a really great picture on Google Images of all the shades swatched so I thought I would include that too. I own shade 13, a lovely bright pinky red. I got it to wear for my dance show a few weeks ago and although the colour on me is not my favourite, I can't doubt that it is an amazing lipstick. For a mere £1, I am sure I could afford to pick a few more colours up from Superdrug. I quite fancy shades 3, 6 & 7.
I really need a new moisturiser and I think this will do just fine. I do have a tiny bit left of my current one but it is pretty heavy duty, so a light one for spring/summer is needed. I have never tried this before, but I have heard on multiple occasions that it is quite good.
Of course there are more things that I lust for right now, but I thought I shan't bore you and just include my top five. Now that I look back at them, I realise that I have put them in order of preference -- how's that for a coincidence! Let me know if you have tried any of these things or link me to a post of yours if you have previously blogged about them. xx
P.S Sorry for practically writing a novel here...