I have a brand new obsession. It's not like I don't watch enough tv already. If anything, I need to watch
less.
But after my brother told me about a website where you can watch movies and tv shows for free (
here
), I realised it was the perfect opportunity to get into a new show. And here comes along Pretty Little Liars.
This tv show is based on the book series by Sara Shepard. I've read the first 2 books in the series, but I think there are 8 altogether (I think, that was all I could find but there may be more?). The story is about four girls who used to be friends with Alison DiLaurentis, a girl who disappeared 'last summer'. Ali was the leader of the group, a queen bee if you like. After she died, the girls gradually go their separate ways but come together again after a major event happens (don't want to spoil anything!). The year after she disappears, the four girls (Spencer Hastings, Aria Montgomery, Hanna Marin and Emily Fields) begin to receive weird messages from someone called 'A'. The messages are about the secrets that only Ali knew.
L-R: Emily, Spencer, Aria, Hanna
Emily Fields, played by Shay Mitchell.
Spencer Hastings, played by Troian Bellisario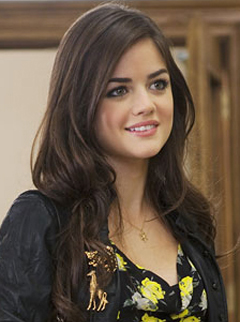 Aria Montgomery, played by Lucy Hale
Hanna Marin, played by Ashley Benson
I absolutely adore this tv show now! It's my new One Tree Hill, now that that has finished. Aria is my favourite, purely because Lucy is so gorgeous. Her hair is literally to die for and she is now my ultimate style crush (hahaha how corny). She dresses really different, but I like it. She is almost always in dresses or skirts. But really, how does her hair look so perfect so much? I found a website where it gives you tips on how to dress like Aria - view it
here
. I love love love this show, it's different to all the other usual ones like One Tree Hill.
Who's your favourite character?